To add fullness and drama:
Black Magic Mascara combined with Rock Out & Lash Out Mascara make for killer lashes.
Starting with Black Magic brush through from roots to tip allowing the helix brush to make full lash contact adding instant definition by lifting and separating lashes with just one coat. Add the rest of the colour on the wand to bottom lashes before going back into the tube to add another coat. Follow this with a third and final coat going vertical with our unique guitar-shaped wand in Rock Out & Lash Out to add a sooty flutter to upper lashes focusing on the outer lashes building in curl and allowing the unique thickening powders to adhere to lashes. When your mascara is just shy of being dry use your fingertips to lift and curl which will set the look.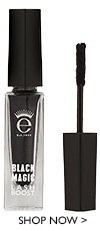 To add lash extensions:
Love the look of lash extensions but wary of the price tag and the damage to your natural lashes then meet Eyeko Lash Boost – brush on fibre extensions that add instant length and volume in seconds. Best used with Eyeko Black Magic Mascara, first add one coat of mascara then as you look down into a mirror brush Lash Boost to lash tips only so they adhere to mascara whilst it's still wet. Seal with another coat of mascara. Master the look by using a light hand and light touch to ensure the perfect flutter. Want more volume? Target Lash Boost midway. Want a cat eye effect? Target Lash Boost to outer lash corners.

To add a waterproof topcoat:
Pick your favourite Eyeko Mascara and finish coat of Eyeko Sport Waterproof Mascara to weatherproof you lashes. Come rain or shine your mascara will stay put no matter what. Bonus! Eyeko Sport Waterproof Mascara contains fibres to give your lashes a boost.