We're all about embracing effortless and natural makeup, and if there's one essential makeup product we can always rely on (and maybe can't live without) it's mascara!  
This holy-grail product lifts, curls and adds definition to your lashes, giving a burst of confidence. Plus, it's completely versatile: you can wear mascara alone, whether you're running late or embracing a more natural look, or you can pair it with your favourite eyeshadow and eyeliner to complete your entire makeup look. There's nothing mascara can't do.   
With that said, why not delve into colored mascara? THE beauty trend that keeps making a comeback. With the release of our best-selling Lash Alert Mascara in four NEW shades, you can swap your traditional black mascara and add a twist with a pop of color to your look.  
Still not convinced? Keep reading to learn how and when to wear colored mascara, as well as the added benefits.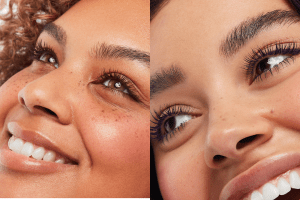 Why wear 
colored mascara
?
Colored mascara is not only a way to switch up your entire look, but also will complement your eyeshadow, outfit and eye color. 
 Each of our NEW Lash Alert Mascara shades has its own purpose.