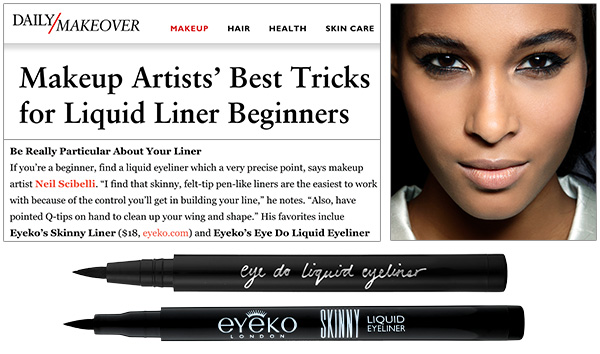 "We'd wear liquid eyeliner every single day if we didn't have to apply it ourselves. Though it definitely creates the best cat-eyes, it can be slightly hard (OK, maybe really difficult) to handle if you're a beginner. And while practice makes perfect, practice also takes time—and lots of it. So to speed things up for you, we went to two makeup artists for their best tips on how to apply liquid eyeliner.
Look Down
You may have the urge to glance up (like when you apply mascara) when you're putting on your liquid eyeliner, but Greene says this is a big mistake. By looking up, you're increasing your chances at transferring the formula onto your lids and brow bone. This can also mess up your eyeshadow… and no one wants to start from scratch there.
Be Really Particular About Your Liner
If you're a beginner, find a liquid eyeliner which a very precise point, says makeup artist Neil Scibelli. "I find that skinny, felt-tip pen-like liners are the easiest to work with because of the control you'll get in building your line," he notes. "Also, have pointed Q-tips on hand to clean up your wing and shape." His favorites inclue Eyeko's Skinny Liner and Eyeko's Eye Do Liquid Eyeliner.
Pre-Measure Your Liner Wings
A cat-eye with noticeably uneven wings? Nah, we'll pass. To get around this, Scibelli says to "pre-measure" your liner. "Many of my clients will say their 'wings' are always uneven," he tells us. "A helpful tip for this is that you can pre-measure how far out your liner is winging out by placing a dot on both sides of the outer eye lids, to make sure they're both going in the same direction."
Don't Pull on the Sides of Your Eyes
It seems like it would make it easier to apply your liner, but Scibelli says this common habit can really mess up your final look. "This can actually completely move the direction of where your liner should go because you're changing your eye shape," he tells us. The right way? "Close and lightly hold down your eye, without slanting—this way you can place the liner on your exact eye shape. When you open, it wont be as much of a surprise," he explains.
Yeah, we can work with that."
Read the full article here.