"Not all lashes are made the same – and luckily neither are mascaras. Using the right wand and formula for your lash type is like finding the right moisturiser for your skin, or styling products that are compatible with your hair; it makes all the difference. Add to this specific application techniques that can curl straight lashes or balance out uneven lengths and you open your eyes to a whole new look.
Custom-fitting your mascara is very topical right now. Eye makeup brand Eyeko, with its famous face Alexa Chung (pictured), has just launched 'Bespoke'. At this personalised mascara service in London's lovely Harvey Nichols you can get a one-to-one eyelash assessment with their experts who will then prescribe a custom-made formula for your eyes only. "Everyone is always searching for that perfect mascara, and now it can be made instantly on counter especially for you" Alexa explains. Nice!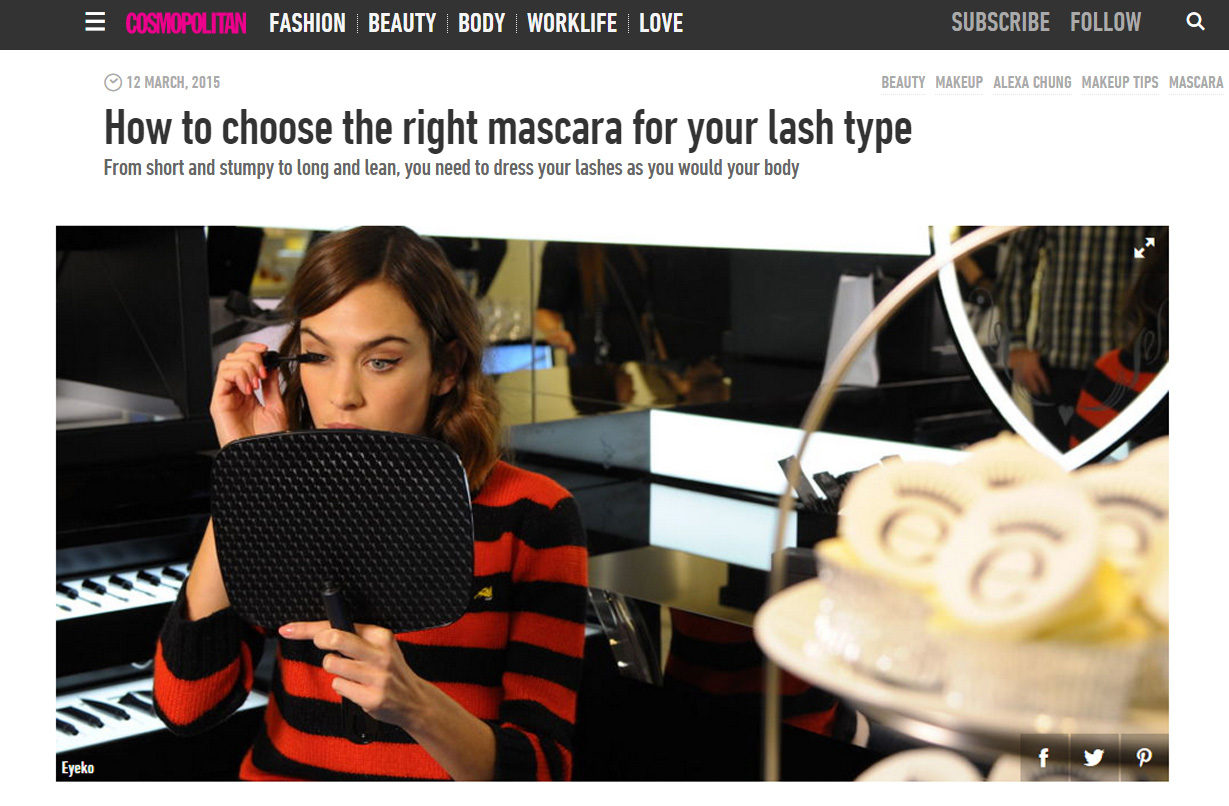 If you can't make an appointment, fear not: we caught up with Eyeko co-founder Nina Leykind to reveal how to choose the right mascara for your lash type. Flawless flutter, here you come:
Long lashes
"Choose a 'curling' formula and brush to enhance your natural length by adding a little lift and curl to open up the eye. As you use your mascara, comb long lashes to the side, creating a 'cat eye' without the need for liquid eyeliner. Concentrate the mascara onto the outer lashes, pulling up and out for this feline flick."
Short stumpy lashes
"Choose a skinny wand with densely packed bristles to grab and capture each and every lash. Pick a bristle brush over a plastic one to ensure maximum styling capabilities to allow you to extend and evenly coat lashes from root to tip for length and definition."
Straight lashes that don't curl
"Using an eyelash curler is a must! Then go in with a 'curling' formula and brush rolling the wand as you apply the mascara. Just before your mascara is fully dry use your fingers to push back the lashes for a long-lasting curl that holds throughout the day."
Short lashes at one end of the eyelid, and longer at the other
"Erratic lash length can often be a result of damage from lash extensions or discontinuing lash serum usage, so pick a formula with lots of natural botanical ingredients and look out for phyto-keratin and panthenol which help promote growth. Go for a dolly lash look and use a bigger brush with a tapered end to style centre lashes into a star burst effect whilst flicking out corner lashes to disguise any uneven growth."
Read the full article here.
Email bespoke@eyeko.com for appointments.