Take inspiration from our curated menu of eyekonic liner looks, all created with Eyeko eyeliner. Select an Audrey inspired cat eye, add edge to your liner with the perfect eyeliner for waterline like Kate or go smokey like ultimate super Naomi.
Take a look at our eyeliner guide, and discover which Eyeko Eyeliner is the best to create your desired look.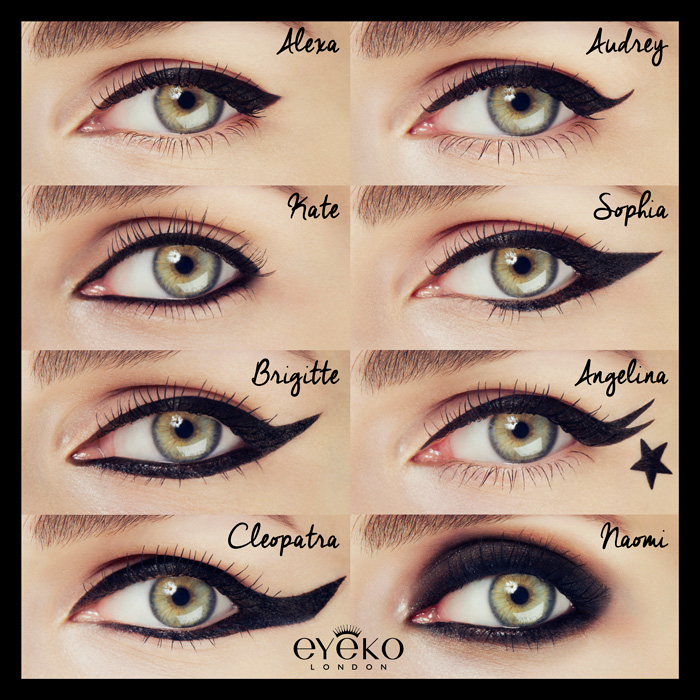 Alexa
Classic bar liner look favoured and inspired by style icon Alexa Chung. Use Eyeko Eye Do Liquid Eyeliner to nail the look. Perfect for everyday wear, or pair with a bold lip colour to make a statement.

Audrey
A timeless cat eye with flattering flick. Use Eyeko Black Magic Liquid Eyeliner for precision point perfection, and long lasting colour. The Japanese inspired calligraphy tip allows for some serious control, meaning your cat eye flick will be super sharp.

Kate
A ring of eyeliner flooding the waterline is our go-to rock chic look and Eyeko Sport Waterproof Gel Eyeliner is the perfect eyeliner for waterline application. Ensure a smudge-proof finish with this long-lasting liner.

Sophia
A sultry, half wing is easy to achieve when you use Eyeko Fat Liquid Eyeliner for single stroke colour and bold lines. The fat tip allows precision and strong product payoff, making application super easy.

Brigitte
A sexy winged eye perfectly frames your peepers. Use Eyeko Skinny Liquid Eyeliner to build the sultry shape and Sport Waterproof Gel Eyeliner to fill the waterline for extra definition.
Angelina
A fun, flirty double flick is easy to do with Eyeko Black Magic Liquid Eyeliner with its precision brush tip, ideal for detailing and adding those delicate lines.

Cleopatra
Where the liner love began. Dare to be bold with Eyeko Fat Liquid Eyeliner with a carbon black finish for instant drama.

Naomi
Seriously smokey eyes are quick and easy to create with Eyeko Me & My Shadow Waterproof Shadow Liner in Charcoal. Use our Sport Eyeliner to define the waterline for extra intensity.

Shop all of the Eyeko Eyeliners here: