BROW LOVE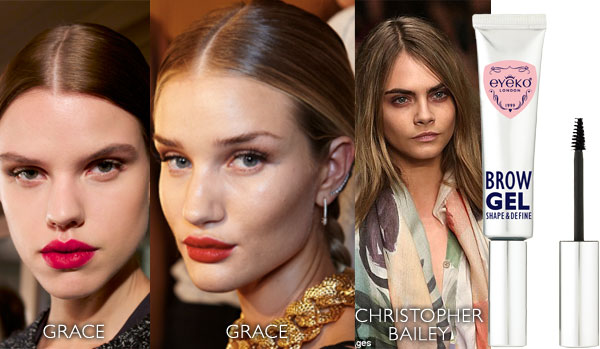 It was evident that the brow love was still going strong as make-up artist Lisa Eldridge teamed thickened brows with a lived-in lip echoing the Robert Palmer 'Addicted to Love' girls for the Katy Grand styled Grace show featuring a collection of LBD's or Little Grace Dresses. Using light strokes of NEW Eyeko Brow Liner and brushed through with Eyeko Brow Gel boosting lashes with a lick of Eyeko Black Magic Mascara and corner lashes from the soon-to launch Eyeko Lash Wardrobe for a sultry tilt.
Brows were also gelled up and feathered in at Roksanda Ilincic, Margaret Howell and JW Anderson. Ofcourse with Brit Brow Mascot Cara Delevigne in town for LFW there was plenty of brow love to go round at Mulberry, Burberry and Giles Deacon.
I can't live without our award-winning Eyeko Brow Gel, it's serum infused for a Cara-brow worthy boost. The hold really lasts but the finish is natural and I'm pleased that I've managed to create a Brow Liner which is equal to the Brow Gel in high-performance yet totally natural looking.
BLUE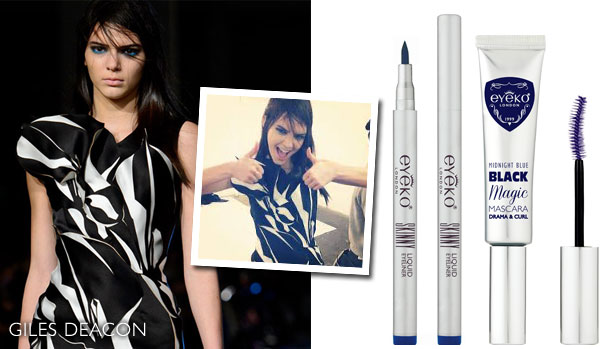 Coloured liner, especially blue, shows no signs of abating as spied at several London shows this season.
First up Giles Deacon scored a coup with brown-eyed girl Kendal Jenner smouldering in fierce 80's blue eyeliner
applied in a chunky strip beneath the eyes teamed with a bold brow, nude lip and mussed up hair that perfectly complimented the mostly mono chrome collection. Like true 21st century girls Kendal gave the look a thumbs up in a backstage selfie whilst Cara Delevigne filmed herself whilst on the catwalk to share on instagram.
Elsewhere blue showed up in graphic form at Temperley and Marques Almeida painted on in cobalt squares on the outer corners and smudged over lids at Julien MacDonald. At Todd Lynn, make-up artist Sharon Dowsett chose Prussian Blue brushed above the crease and over brows as well as brow bones and we saw ice blue on the girls at John Rocha.
I love navy liner day and night as it works well on everybody and really does brighten up the whites of your eyes; giving you all the definition of black but softer. Try Eyeko Midnight Blue Mascara and Skinny Liquid Eyeliner Navy if you're in a blue mood.
BLACK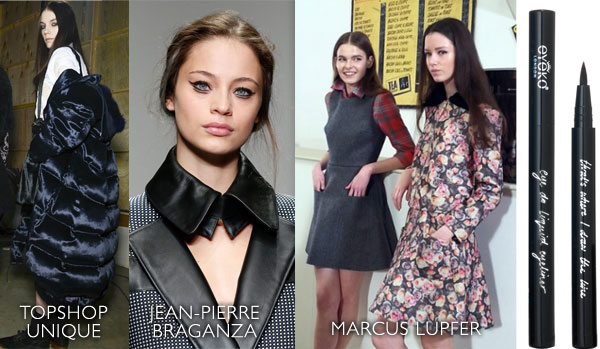 Despite the collection featuring every shade of blue from cobalt to navy, black was the colour of choice for make up at Top Shop Unique ringed around the eyes Margot Tenenbaum style with minimal fuss and straight locks, hair slide optional. Just like the clothes the make-up was super-wearable and easy to master. More black eyeliner was on show at Jean-Pierre Braganza with a tough take on our favourite cat eye. Make-up artist Terry Barber added two fierce strokes to the lower lash line and as with every other 'all-about-eyes' look left the rest of the face bare only adding a subtle hint of pink to lips and cheeks keeping the make-up the right side of pretty.
Marcus Lupfer showcased another favourite sooty liner complimenting the 60's vibe where make-up artist Lucy Burt gave each girl a bespoke liner look from kitten flick to sultry kohl rimmed eyes.
I'm obsessed with creating the perfect black eyeliner and look forward to launching Eyeko Visual Eyes which is our easiest to master liquid liner yet. Right now I'm tightlining with Eyeko Eye Do Liquid Eyeliner which sits well on the waterline and thickens up your lashes a treat.
GREEN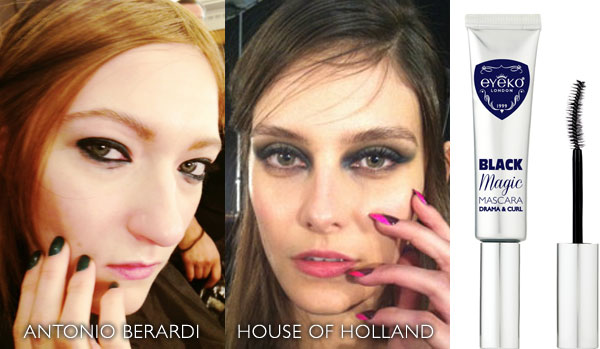 Green was the new Black at both Antonio Berardi and House of Holland. At Berardi make-up artist Lucia Peroni smudged emerald green ringed around the whole eye, adding a dab of vaseline to give it a worn in, 'deconstructed' finish. Completed with bushy brows "part Brooke Shields, part boy," for a look that was cool downtown New Yorker but also sweet because Antonio's mother always wears emerald green liner showing that liner love is always in style.
A winged out, colour wash of deep dark green was the look at House of Holland with lashings of mascara and more full brows balancing out the look making it more rebel less lady teamed with graphic hot pink and lilac nail art.
I think a key look to wearing strong colour is mascara, mascara, mascara to really frame the eye. Eyeko Black Magic is a favourite with make-up artists from Kay Montano to Lisa Eldridge as it gives you the blackest, stand-out lashes.