At this stage, it can be confirmed that full, natural-looking eyebrows are far more than a trend. While we may not realize it, we often associate defined facial features with youth. Therefore, it makes perfect sense that a prominent set of eyebrows can take years off our appearance. Unfortunately, whether it's due to overplucked eyebrows that won't grow back or the natural hair-thinning process that comes with aging, hanging on to a solid brow that firmly frames the face is easier said than done. Fear not, we've created a guide on how to style thin eyebrows step-by-step so you can maintain that youthful definition, regardless of how sparse your eyebrows may be.
Keep reading for all you need to know on how to work with what you've got to achieve a full brow look.
Why do eyebrows thin with age?
Let's begin by looking at the main reasons why eyebrows thin with age. Firstly, as we know, our skin loses its elasticity over time. This is why we use plumping creams and regimes that promise us a youthful complexion for longer. This loss of elasticity is also why eyebrows thin with age, as it can cause our hair follicles to become brittle, fall out and stop producing hair completely.
The second reason why eyebrows thin with age can be down to hormonal changes. When the levels of certain hormones begin to decline, so does the hair's strength and thickness. It's always a good idea to get check-ups on the thyroid, as often an imbalance of the hormones released from this gland can be linked with sparse eyebrows.
What can you do to help sparse eyebrows?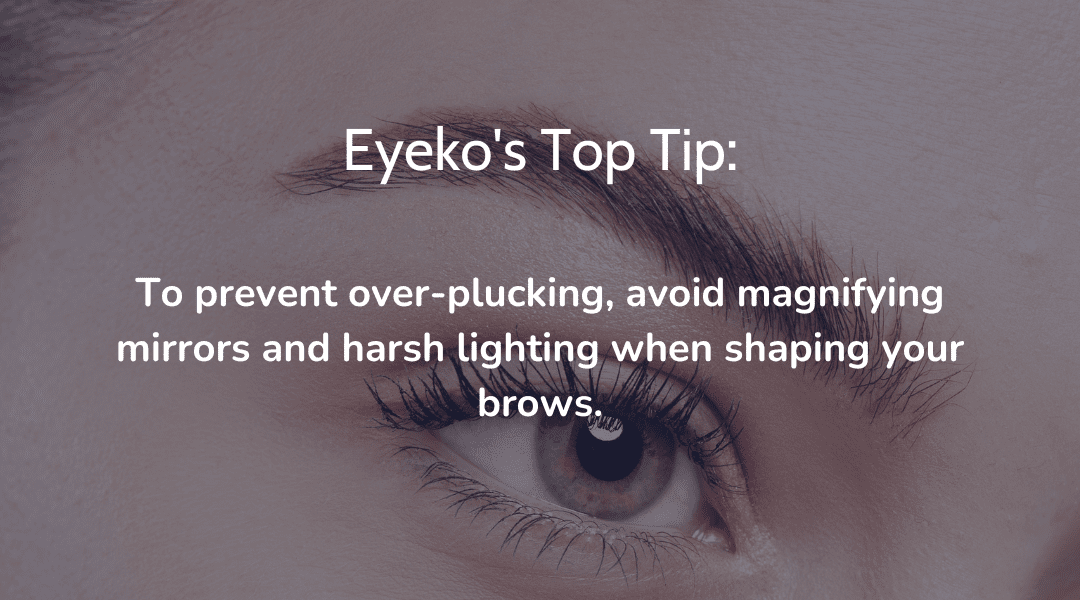 The first way how to thicken the eyebrows may be stating the obvious, but you must stop over-plucking immediately. In fact, you may be over-plucking without realizing it. Our tip is to avoid a magnifying mirror and harsh lighting when shaping your brows. It can tempt you to go over-board with tweezers, attacking the harmless hairs that can't actually be seen. Instead, only remove noticeable strays that appear towards the end of your brow. 
What's more, instead of plucking out unruly or lengthy hairs, simply comb the hairs outwards and trim off any excess length. The Eyeko Brow Grooming Kit has everything you need for touch-ups without going overboard and ending up with sparse eyebrows.