We're all aware of how our makeup can modify itself throughout the day. Our lipstick may fade after eating, our T-zone can get on the oily side every so often. However, has a glance at your reflection ever revealed that your mascara has drifted away from your eyelashes? When the panda look is not what you're going for, black smudges of mascara under the eyes are a nuisance to say the least. What's worse, using your finger to diffuse the smudge ends up spreading it, wiping away your under-eye concealer in the process. This is the exact reason why you should know what a tubing mascara is.
When you've tried all of the tips and your mascara simply won't stay put, it's time to look for a formula that you can trust. Thankfully, one which is smudge-free really does exist. So let's look into this a little deeper- what does a tubing mascara mean and what's the difference? Here's all you need to know.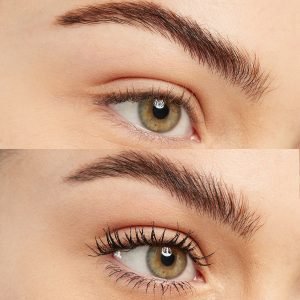 What does tubing mascara mean?
You may have heard about the tubing packaging that comes with our mascaras here at Eyeko. This specific packaging has been designed to make it easier for you to get the most out of your product and filter out those clumps. What you may not have known, however, is that the meaning of a tubing mascara goes far beyond packaging- there's a formula to match.
While your average mascara may use oils or waxes, what a tubing mascara is made up of is a formula of polymers that wrap around each individual lash. When applying a tubing mascara, rather than painting layers of pigment onto the lashes, you are coating each individual lash with a 'tube' that won't budge. The result is all-day lashes with an even, enhanced finish.