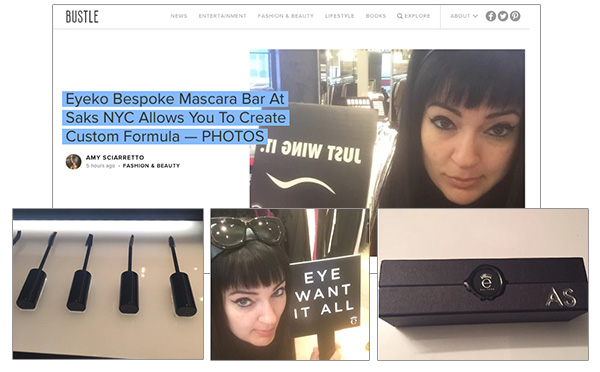 "I have super hard to curl lashes. I like them long, curled, voluminous, and black as night. I have tried nearly every formula, brush, and brand, both prestige and drugstore, on the market. But I can never quite get the bend I want since my lashes are as straight as my hair. I think I have solved the problem, thanks to Eyeko's Bespoke Mascara Bar, which is exclusive to Saks Fifth Avenue in NYC and is manned by "mascara editors" that customize a brush and a formula based on your lash needs.
The British brand focuses on eyes. Eyes specializes in mascara and liner and that's it. The bar was founded on the notion that there is no such thing as a one-size-fits-all mascara.
I've been an Eyeko devotee ever since Alexa Chung created an eyeliner pen that lets you replicate her signature flick. I also love the squeeze tube packaging of the mascaras. I scour the Eyeko Instagram daily for tips to create a better flick.
The bar is located on the fifth floor of the luxe retailer, nestled right next to the Elizabeth & James section. I was like, "RUFKM? One of my fave makeup brands and my favorite contempo fashion range situated right next to each other?" #Heaven.
I was stoked that the Eyeko Bespoke Bar isn't on the first floor with the rest of the cosmetics offerings so I could enjoy my consultation in somewhat private and much quieter fashion.
I was game to see if a personalized mascara consultation could solve my "no curl" conundrum. The service costs $45, which is actually pretty affordable and worth the investment if you use mascara every day and put a lot of value in your lash look.
There are 100 possible combos of brushes and formulas. You will find yours thanks to some face time with your mascara editor.
Neil Scibelli, the supremely fabulous chief mascara editor, greeted me warmly and proceeded to ask me all the pertinent questions about my lash preferences via our one-on-one consultation.
Scabbily explained that the brush is a key element when it comes to achieving curl and asked if I preferred a waterproof of water-resistant formulation.
I wasn't super concerned with how the formula reacted with water. I was more interested in the curl, volume, and color. He set about pulling formulas and brushes to address my needs and wants.
BTW, Eyeko makes mascara fun with these cheeky, hand mirror-like signs that you can hold and pose with. Clearly, I was having a grand time with them!
Neil and I selected two brushes to see which lead me to the promised land of curled lashes. I told him I wanted midnight-hued lashes that last and last, so he set about selecting the right formula.
We tried the half-moon wand on one eye and the snowman-shaped wand on the other. I could see much more curl with the bent brush. He also added some of the Black Magic Lash Boost, which are brush on extensions that add fibers and fullness after you apply the mascara.
Overall, I can't gush enough about this service, because it is so personalized and focused on you, you, you.
For the cost of two weeks worth of Starbucks, you can create a custom mascara. Eyeko retains your information so you can restock when you empty your tube.
The Bespoke mascara was made on site in five minutes, with my matte, black box monogrammed with my initials for a little extra personalization.
The Eyeko Bespoke Mascara Bar is located at Saks Fifth Avenue in NYC. It's the only one in the U.S. for now. If you are traveling to Manhattan or are local, you should totally take advantage of this service."
Email bespokeUS@eyeko.com for appointments.
Read the full article here.