Why are people going vegan?
Vegan diets are growing in popularity as more people adopt plant-based alternatives for reasons such as improving their health, environmental impact, and for animal welfare. For many, adjusting to this new diet can seem daunting at first. Can I get enough protein on a vegan diet? What nutrient will I be missing? Will I only ever eat salads?
As more people try going vegan, they're showing that a vegan diet is extremely easy and beneficial. You can easily get enough of the essential micronutrients from plant-based foods and many products now exist for alternatives to traditionally non-vegan foods such as burgers and ice-cream. Some of the recipes we share below use incredible snacks you wouldn't believe are vegan such as a salted caramel Filled Cookie and Chocolate Peanut Butter Cups!
Take the time to learn about the different nutrients in plant-based foods and find recipes that you like. Micronutrients are essential elements and compounds that our bodies need for normal physiological processes to take place. The primary source of all nutrients are plants however it's important to know which foods contain which nutrients.
Whether you follow a vegan diet or not, it is still possible to become deficient in some key micronutrients if you don't eat the right variety of foods. Whilst a varied diet increases the likelihood of ticking all those nutrient boxes, it can be difficult to keep track of which vitamins and minerals you've had in each meals. Supplements are a great way to ensure you meet the recommended daily requirements of essential nutrients. For example, Vitamin B12 and Vitamin D is difficult to source naturally in the diet, so a daily supplement is a convenient way to stay topped up in these essential vitamins.
We have listed some top tips for going vegan below:
Tips for going vegan:
Fill your cupboard with vegan foods and remove the non-vegan items.
Start with foods you know you like.
Plan your meals so you know what to buy in the shops.
Stock up on tasty vegan snacks.
Don't let others put you off!
Try transitioning slowly by doing 2 or 3 vegan days a week, or "meat free Mondays."
Have a daily vitamin supplement whilst you learn which foods contain which nutrients.
Going vegan doesn't mean getting rid of all your favourite foods or delicious treats. We've selected three recipes which demonstrate how you can still have indulgent desserts and nutritious breakfasts that are completely plant-based. Not only that, they're extremely easy to make and will soon become go-to favourites.
Vegan Recipes Worth Trying at Home
Each recipe provides a source of quality plant-based protein as well as many different micronutrients. For example, the chia seeds used in the Smoothie Bowl recipe provide a powerful boost of fibre and vegan omegas-3-6-9 fatty acids to your diet.  The bananas in the Matcha Nice-Cream recipe are also a great source of fibre and also contain important minerals such as potassium and magnesium, and vitamins B6 and C.
Matcha Vegan Ice-Cream Sundae Recipe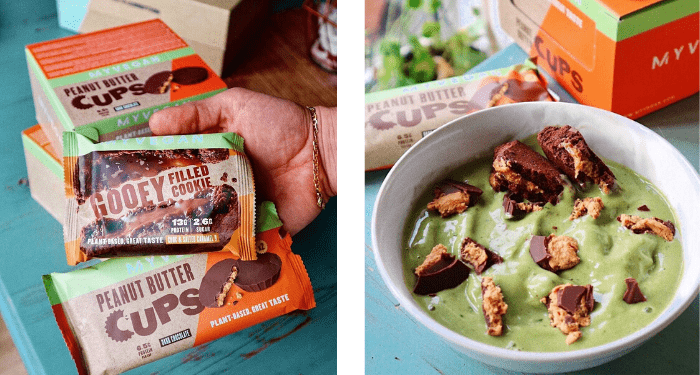 This ice-cream dessert is really quick and easy to make, has zero added sugar or sweeteners, and is packed with 40g of quality plant-based protein making it the perfect post-workout treat or healthy alternative to some ice-creams. The frozen bananas create the delicious creamy consistency whilst ensuring the recipe is completely dairy-free!
Ingredients
Method
Blend together the bananas, matcha, and Soy Protein powder together to create your creamy nice-cream.
Pour into a bowl and top with a crumbled Peanut Butter Cup.
Heat up the Filled Vegan Cookie for a 5-8 seconds in the microwave for a warm, gooey topping to your nice-cream.
Fruity Chocolate Smoothie Bowl Recipe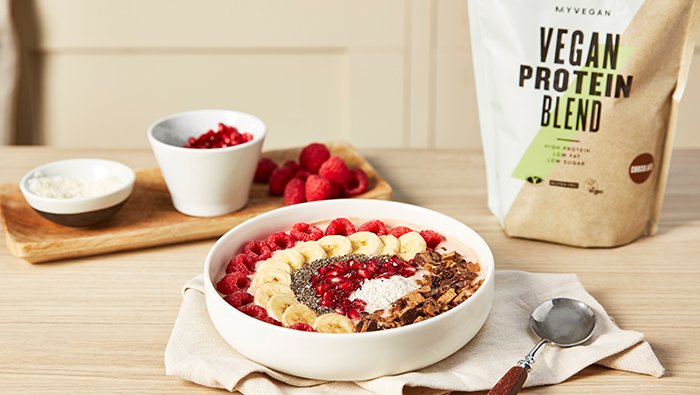 Smoothie bowls are one of the best ways to transform your breakfast into a delicious and nutrient-packed work of art. You can add any toppings you like, however this recipe uses a great mix of fruit, seeds, berries and a protein bar – perfect for starting the day with a boost of different nutrients. The Vegan Protein Blend contains 22g of quality, plant-based protein and is a great source of essential amino acids. Organic chia seeds add a source of fibre as well as being a vegan-friendly source of omegas-3-6-9. If you have a sweet tooth, don't forget to add the Carb Crusher – an indulgent, triple-layered bar that is low in sugar and high in protein, meaning you can still have a chocolate topping whilst staying healthy.
Ingredients
450ml vegan yoghurt
1 scoop Myvegan Vegan Protein Blend (Chocolate flavour)
1 banana
Handful of raspberries
1 tbsp. of pomegranate seeds
1 tsp. shredded coconut
Method
Mix the Vegan Protein Powder and yoghurt in a bowl until smooth.
Pour the smoothie mixture into a wide bowl.
Chop the Carb Crusher and banana into even slices and decorate the top along with the raspberries, pomegranate seeds, chia seeds, and shredded coconut. Start at one side and move towards the centre to create a beautiful pattern.
High-Protein Vegan Pancakes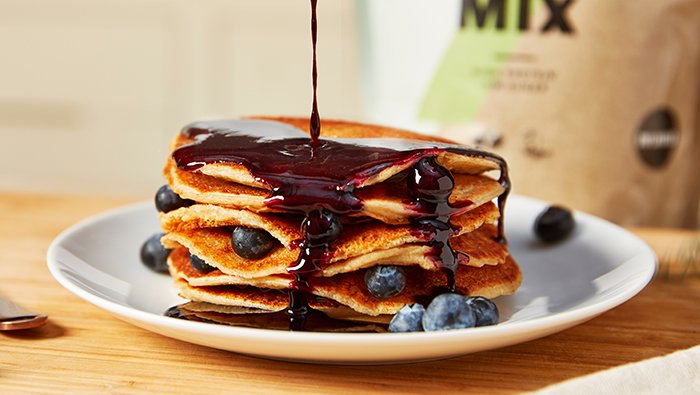 Pancakes are a staple for Sunday morning brunches or as a quick and easy dessert. This recipe uses the Vegan Pancake Mix which is available in a range of flavours including Blueberry and Cinnamon, and Chocolate.
Ingredients
250g blueberries (more to decorate)
50g caster sugar
100ml water
½ tsp. lemon juice
Method
Create the topping sauce by combining the blueberries and sugar together in a saucepan and add the water and lemon juice.
Bring to the boil over a high heat. Stir frequently to prevent it sticking.
Create the pancake mixture by mixing the Vegan Pancake Mix with the water until it is smooth.
Heat a frying pan hot and add a little oil.
Pour the pancake mix into the frying pan in small disc shapes.
Leave the pancakes until the top starts to darken and bubble slightly.
Test the edges of the pancake to check it comes away from the pan easily – when it does it is ready to flip!
If the pancakes don't work, don't worry! Adjust the water levels to find your preferred consistency and thickness.
Would you like to try going vegan? USE CODE: EYEKO25 to 25% off Myvegan. Hurry, available for a limited time only!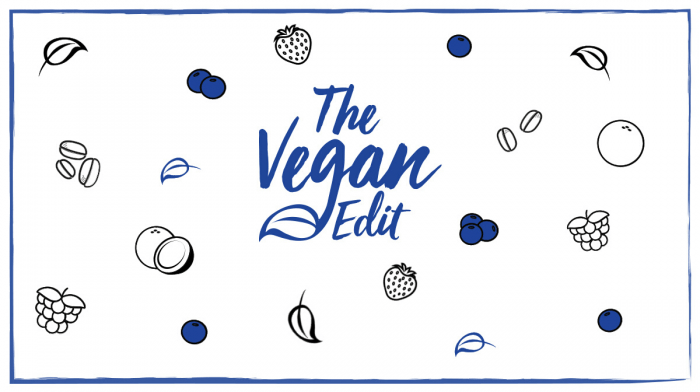 We're so excited to introduce to you our Vegan collection: The Vegan Edit. Featuring ten of our current eye-catching cosmetics, celebrate Veganuary in style with Eyeko's plant infused products! Perfect for those with dull, dry and sensitive eyes, our Vegan Edit allows you to mix between blends of Caffeine, Coconut Oil and many more nutritious ingredients. Enjoy multi-vitamin Fruit Extracts enriched with natural moisturising agents, perfect for giving your peepers a healthy shine. What's more, many of The Vegan Edit comes packaged in Eyeko's signature lightweight squeezy tube, which means zero-product waste and ensures you get the most out of every purchase!