We catch up with one of our favourite beauty vloggers, actress Teni Panosian, the make up maven behind Miss Maven! Read all about her desert island must-haves; how she spends her down-time and her beauty predictions for the year ahead.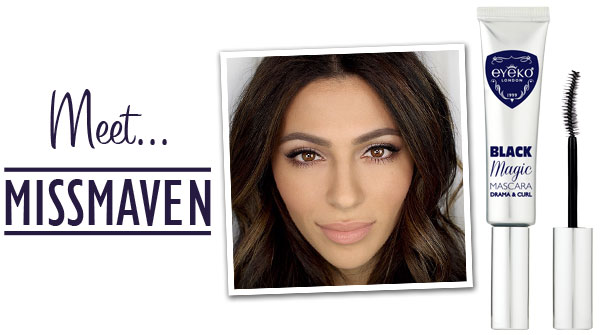 What do you think is going to be the biggest makeup look for this season?
Creative liner looks. Whether it's your standard black or an eye-catching vibrant color, it was all over the runways. The mod liner look is especially hot right now; paired with a pastel lip it's perfect for the season!
What's your biggest extravagance?
Massages. I get them often! I work 7 days a week so it's my one window of time every few weeks to check out for about 90 minutes!
What's your greatest achievement to date?
All of my achievements are tied to one another, neither are exclusive of the other, so I would say my greatest achievement is having done all of it by myself! I'm very proud of that.
In what place are you happiest?
On the couch with my dogs in my lap. Nothing redirects my thoughts like my animals.
Who is your biggest beauty crush right now?
Kate Beckinsale. Always flawless.
What would be your desert island Eyeko product?
The Eyeko Black Magic Mascara. It's just perfect in every way!!
If you could teach someone a single beauty trick what would it be?
Highlighting. Adding a touch of glow to the top of the cheekbones and extending out toward the temples can bring so much life to your face.
Your favourite youtube videos featuring Eyeko?
I always love Pixiwoo's videos using Eyeko, as well as Lisa Eldridge considering she's such a highly regarded makeup artist. I also love Mortem3r's Smokey Cat Eye video using Eyeko, she does a nice job of creating dramatic and sleek looks!
Connect with Teni – Miss Maven