"CUSTOM EYES
If you can't afford couture, how about bespoke mascara prescribed by your own lash stylist?
Edwina Ings-Chambers talks to the couple behind the latest line in personalised cosmetics
"It started with wanting to create the perfect mascara," says Nina Leykind, one half of the married couple behind the eyes-only make-up brand Eyeko.
"We have about six mascaras in our core range, which is quite a broad offering. Which one is best is a subjective thing, but so important, because I think mascara is the linchpin of all make-up."
"So to get mascara right, you have to create a bespoke one," says Max, the other half of the duo. "It's about talking it to an expert – the couture compared to the ready-to-wear. Everyone is still looking for their ultimate mascara."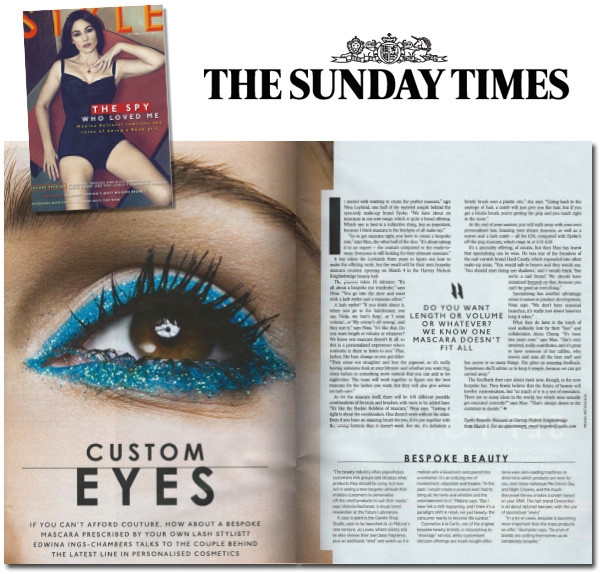 It has taken the Leykinds three years to figure out how to make the offering work, but the result will be their own bespoke mascara counter, opening on March 4 in the Harvey Nichols, Knightsbridge beauty hall.
The process takes 15 minutes: "It's all about a bespoke eye wardrobe," says Nina. "You go into the store and meet with a lash stylist and a mascara editor."
A lash stylist? "If you think about it, when you go to the hairdresser, you say, 'Help, my hair's limp,' or 'I want volume,' or 'My colour's all wrong,' and they sort it," says Nina. "It's like that. Do you want length or volume or whatever? We know one mascara doesn't fit all so this is a personalised experience where someone is there to listen to you." Plus, lashes, like hair, change as you get older: "They come out straighter and lose the pigment, so it's really having someone look at your lifestyle and whether you want big,crazy lashes or something more natural that you can add to for night-time. The team will work together to figure out the best mascara for the lashes you want , but they will also give advice on lash care."
As for the mascara itself, there will be 100 different possible combinations of formula and brushes, with more to be added later. "It's like the Baskin Robbins of mascara," Nina says. "Getting it right is about the combination. One doesn't work without the other. Even if you have an amazing brush for you, if it's put together with the wrong formula then it doesn't work. For me, it's definitely a bristle brush over a plastic one,"she says. "Going back to the analogy of hair, a comb will just give you flat hair, but if you get a bristle brush, you're getting the grip and you reach right to the roots."
At the end of your session, you will walk away with your own personalised box, housing your dream mascara, as well as a mirror and a lash comb – all for £28, compared with Eyeko's off-the-peg mascara, which rings in at £15-£20.
It's a speciality offering, of course, but then Max has learnt that specialising can be wise. He was on of the founders of the nail-varnish brand Hard Candy, which expanded into other make-up areas. "You would talk to buyers and they would say, 'You should start doing eye shadows,' and I would think, 'But we're a nail brand.' We should have remained focused on that, because you can't be good at everything."
Specialising has another advantage when it comes to product development, Nina says. "We don't have seasonal launches, it's really just about however long it takes."
What they do have is the touch of cool authority lent by their "face" and collaborator, Alexa Chung. "It's been two years now," says Max. "She's very involved, really contributes, and it's great to have someone of her calibre, who travels and sees all the best stuff and has access to so many things. She gives us amazing feedback. Sometimes she'll advise us to keep it simple, because we can get carried away."
The feedback they care about most now, though, is the new bespoke bar. They firmly believe that the future of beauty will involve customisation, but "so much of it is a test of execution. There are so many ideas in the world, but which ones actually get executed correctly?" says Max. "That's always down to the customer to decide."
Eyeko Bespoke Mascara at Harvey Nichols Knightsbridge from March 4. For an appointment, email bespoke@eyeko.com