The day we're first introduced to the beauty world, we often begin with neutral, safe colors. As we grow more confident in applying makeup, we may start to venture with different shades of lipstick or eyeshadow, but the hue of black on our lashes usually remains unchanged. We presume by default that black is the best mascara color to choose for our eyes. This is because experimenting with different shades of mascara is often considered a bold, adventurous move that's left for the catwalks.
However, as the beauty industry evolves, it seems that learning how to choose a mascara color is now a significant step in finding the right eye makeup for you. While black still stands a safe, reliable option, it may not be the shade that will really accentuate your eyes with minimal effort.
From deep greens to warm browns, keep reading to discover how to choose a mascara color for your eyes.
What color mascara to choose for blue eyes
So let's begin by revealing what color mascara for blue eyes is the best way to make them pop. With light sky-colored eyes, you may have noticed by now that sometimes a jet black mascara can appear quite harsh. If you're looking to achieve a no makeup look, a brown colored mascara on blue eyes will give a far more natural result. Even Kylie Jenner herself once announced that she uses a brown shade of mascara for her bottom lashes to achieve a softer finish.
Having said this, using a brown colored mascara for blue eyes can also give dramatic impact for a night-time look too. Simply pair the mascara with an eyeshadow or liner which is a similar or a lighter shade of brown.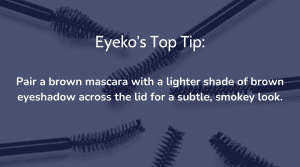 The chocolate-y undertone of Eyeko's Lash Alert Mascara in Brown will allow the whites of the eyes to stand out, making them look brighter and accentuating the blue iris. If you want the dark contrast that a black mascara would give, simply apply the black shade to the base of the lashes and coat the tips with the brown for a warm, subtle finish.