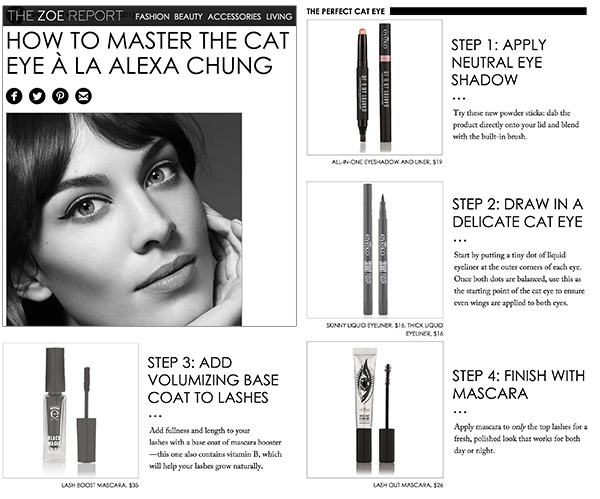 "Alexa Chung has clearly mastered the art of applying a flawless cat eye so it's no surprise that she is thriving in her post as Creative Consultant for Eyeko—one of our favorite eye makeup lines—where she has helped develop coveted products since 2013. The latest launch, new this week, is comprised of four essentials that make creating the perfect winged-liner look that much easier to execute. Here, a step-by-step using the just-launched products in the line.
STEP 1: APPLY NEUTRAL EYE SHADOW
Try these new powder sticks: dab the product directly onto your lid and blend with the built-in brush.
STEP 2: DRAW IN A DELICATE CAT EYE
Start by putting a tiny dot of liquid eyeliner at the outer corners of each eye. Once both dots are balanced, use this as the starting point of the cat eye to ensure even wings are applied to both eyes.
STEP 3: ADD VOLUMIZING BASE COAT TO LASHES
Add fullness and length to your lashes with a base coat of mascara booster—this one also contains vitamin B, which will help your lashes grow naturally.
STEP 4: FINISH WITH MASCARA
Apply mascara to only the top lashes for a fresh, polished look that works for both day or night."
Read the full article here.