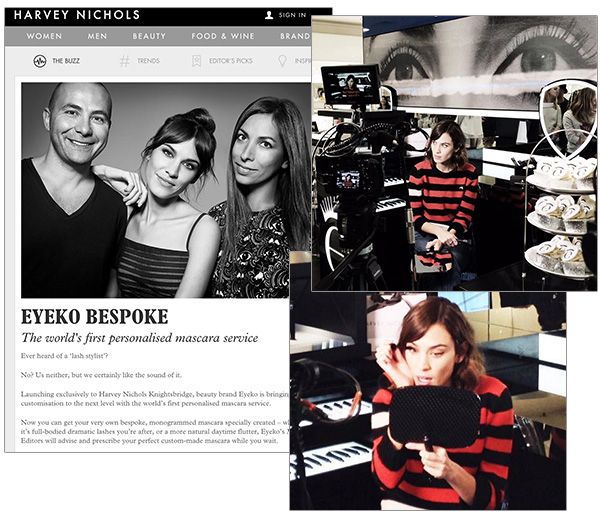 "The world's first personalised mascara service
Ever heard of a 'lash stylist'?
No? Us neither, but we certainly like the sound of it.
Launching exclusively to Harvey Nichols Knightsbridge, beauty brand Eyeko is bringing customisation to the next level with the world's first personalised mascara service.
Now you can get your very own bespoke, monogrammed mascara specially created -; whether it's full-bodied dramatic lashes you're after, or a more natural daytime flutter, Eyeko's Mascara Editors will advise and prescribe your perfect custom-made mascara while you wait.
Harvey Nichols Group Beauty Buying Director, Daniela Rinaldi states:
The exclusive launch of Eyeko's Bespoke Mascara Wardrobe to our Knightsbridge store is the perfect example of a brand at the forefront of beauty innovation and epitomises our move into a more prescriptive, bespoke offering that
is tailor made for each of our customers.
And as a firm favourite of the likes of Lisa Eldridge and Kay Montano, we couldn't agree more.
We grabbed founders Max and Nina Leykind to discuss how the brand is redefining intelligent beauty.
1. How did the idea behind the custom mascara develop?
As an eye-makeup only brand, our focus and mission has always been to create the perfect mascara. Our new Bespoke service offers the ultimate fulfilment of finding the perfect mascara custom-made for your eyes only!
2. We heard it took three in years in the making -; what was involved in this process?
Refining our product offering, innovating everything from packaging design to brushes; from formulas to training our Mascara Editors to provide an unparalleled service. Our counter also features a lot of firsts in terms of design. You'll have to wait and see!
3. Tell us more about your Mascara Editors and talk us through an Eyeko consultation?
Our Mascara Editors not only listen to what each individual is looking for, but take the time to look at the lashes to prescribe the perfect mascara. This could include a variety of mascaras to see you through from day to night. That's what Bespoke is about -; matching your lashes with your desires and needs, to create the perfect mascara for you.
4. Alexa Chung is the 'face' of Eyeko -; what does she bring to the brand?
We've been working with Alexa for the past two years and as a style icon (and the face of Eyeko), she naturally lends an informed perspective to whatever we do.
5. Customisation is a hot topic in the industry right now, would you agree that beauty is becoming more 'bespoke'?
Involving the customer in the process is key to the Bespoke service we offer. And judging from the response we've had (bookings are already well into Summer), it's what everyone has been waiting for!
Eyeko Bespoke is exclusive to Harvey Nichols at £30. Ask at the Eyeko counter or speak to a Beauty Concierge advisor for more details."
Read the full article here.
Email bespoke@eyeko.com for appointments.